SPECIAL GIFTS CAMPAIGN
Please consider donating to our 2021 Special Gifts Campaign. Special Gifts provide critical funds for the operation of the nature center and help close the budget gap between what we collect in admission fees, program fees, and membership dues and the real cost of maintaining Seven Ponds as a quality nature sanctuary and environmental education center. We hope members and friends will help us by being as generous as they have been in the past. Thank you for thinking about the nature center during this season of giving.
We regretfully announce that our annual members-only Holiday Auction and Christmas Party, originally scheduled for December 4, 2021, will not take place this year. This difficult decision was made in deference to the health and safety of our members and volunteers.
In accordance with current recommendations from the Lapeer County Health Department and the Michigan Department of Health and Human Services, Seven Ponds Nature Center is asking everyone to wear a face mask inside the nature center building. 
We appreciate your cooperation and kindness.
**NEW** Canoe & Kayak Launch
We are excited to announce that our new canoe and kayak launch is installed and ready to use. Located along the dock on Treetop Pond, the launch provides a convenient access point to Treetop Pond and all the connecting ponds - Miller Pond, Little Pond, Long Pond, Big Pond, Richie Pond, and Mud Pond. 
Launching a craft from the nature center is a privilege reserved for Seven Pond members - another perk of membership and a great reason to join if you haven't already done so. 
Reminder that fishing is prohibited from the shores of the nature center and from any craft launched from the nature center. 
Please check in at the front desk prior to launching. School groups, scout groups, and others may be involved in pond dipping from the dock, which will require you to wait until the program is finished before launching.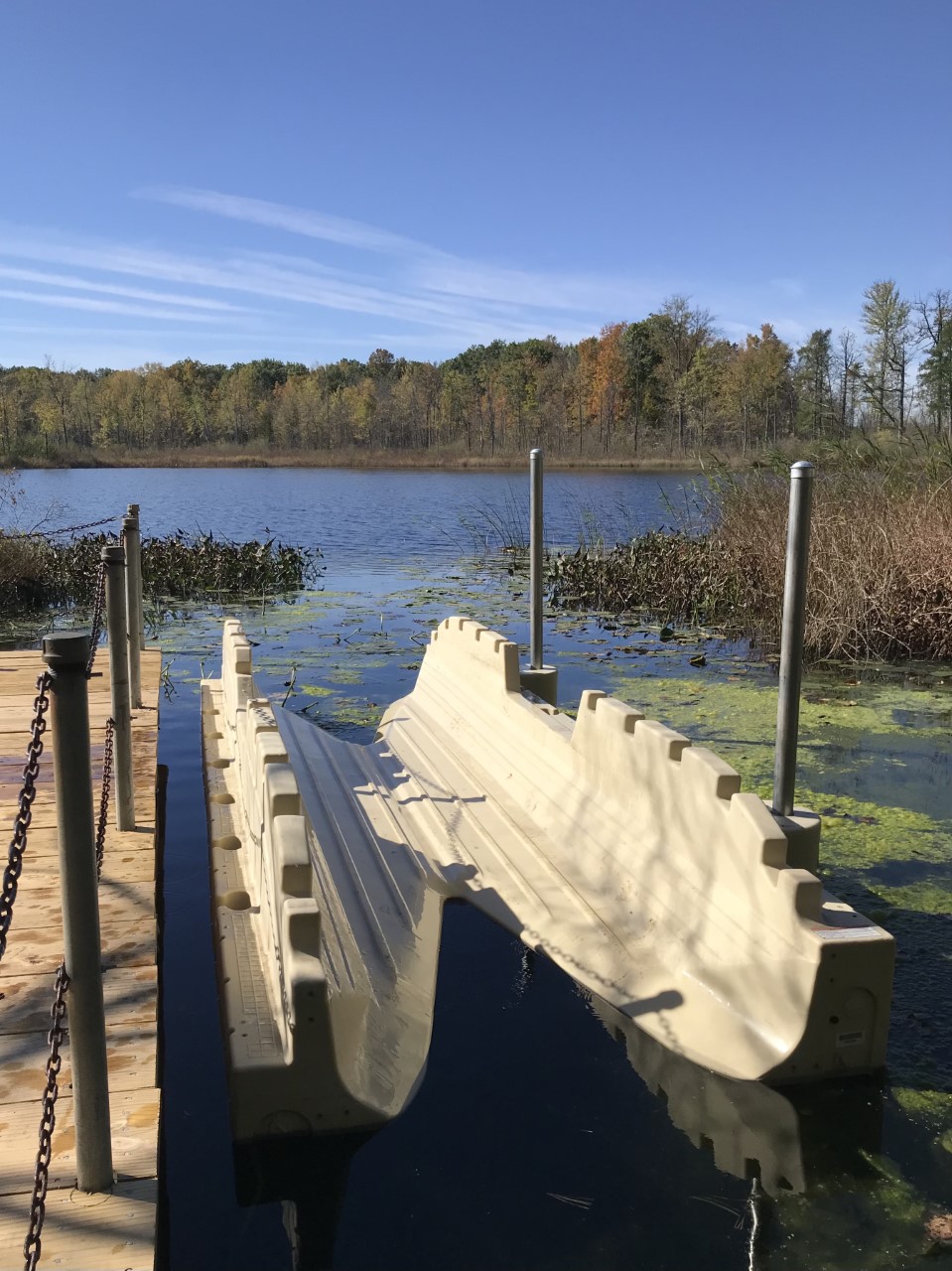 The Lapeer County Community Foundation supports so many worthwhile projects and organizations around our county and has been a long-time supporter of Seven Ponds Nature Center. Did you know that LCCF manages an Endowment Fund on behalf of Seven Ponds Nature Center?  This fund provides a permanent source of funding for the Center for generations to come.
To donate, visit: www.lapeercountycf.org.
Click here to see a short video from LCCF which features Seven Ponds