Seven Ponds Nature Center encompasses nearly 500 acres of woodlands, wetlands, lakes, ponds, prairies, and fields. There are over six miles of trails for you to explore and enjoy. Please check-in at the nature center prior to venturing out on the trails. Our trails are open to guests Tuesday through Sunday, 9:00 AM to 5:00 PM, and open to Seven Ponds members dawn to dusk, every day of the year.
CURRENT TRAIL CONDITIONS
February 25, 2021: The big snow we experienced last week is past us, and with warmer temperatures this week much of it has melted. Trail conditions vary, but boots are still recommended. With daytime temperatures above freezing, and nighttime temps below freezing, the trails may be icy and crusty in the morning, softening up by midday. With warmer, sunny days it's great to get out on the trails and enjoy a hike!
WINTER WARNING: Please stay off the ice at the nature center. Our glacial lakes are deep, with water moving through the channels, resulting in dangerously thin ice in some places, particularly near the channels connecting the lakes. During our WinterFest we only permit visitors on the ice when and where we are absolutely certain it is safe. On the various small ponds throughout our grounds, getting onto the ice means venturing off the trail - which is not permitted. We want everybody to have a fun and safe visit to the nature center. Thank you!
NOTE: Our indoor restooms are available during regular operating hours. To help keep our staff and fellow visitors safe, a mask or face covering is required to enter the building, and our capacity is 25 visitors at one time. 
RECENT OBSERVATIONS
Notable wildlife sightings during the past week: Purple Finch, Pine Siskin, Eastern Bluebird, Pileated Woodpeckers, Opossum, Cottontail, Eastern Screech-Owl (heard), a pair of courting Red-tailed Hawks, Wild Turkeys, Whitetail Deer. (2/25/21)
We have an unusual winter visitor at our feeders: a Yellow-bellied Sapsucker. This member of the woodpecker family normally migrates well south of Michigan, but occasionally one overwinters in our state, and we're enjoying watching this bird feed on the suet behind the building. (2/15/21)
Pileated Woodpeckers have been visiting the suet at our feeders and foraging in the trees between the building and the ponds. Watch - or listen - for these impressive woodpeckers on your next hike at Seven Ponds. (1/22/21)
With fresh snow comes fresh tracks, and the nature center grounds are littered with evidence of the travels of critters. What animal tracks and other wildlife signs have you seen on the trails recently? (1/20/21)
The deep, resonant hoots of a Great-horned Owl were heard at the nature center overnight. These large owls mate during the winter months, which allows their owlets to get a head-start on their development. (1/15/21)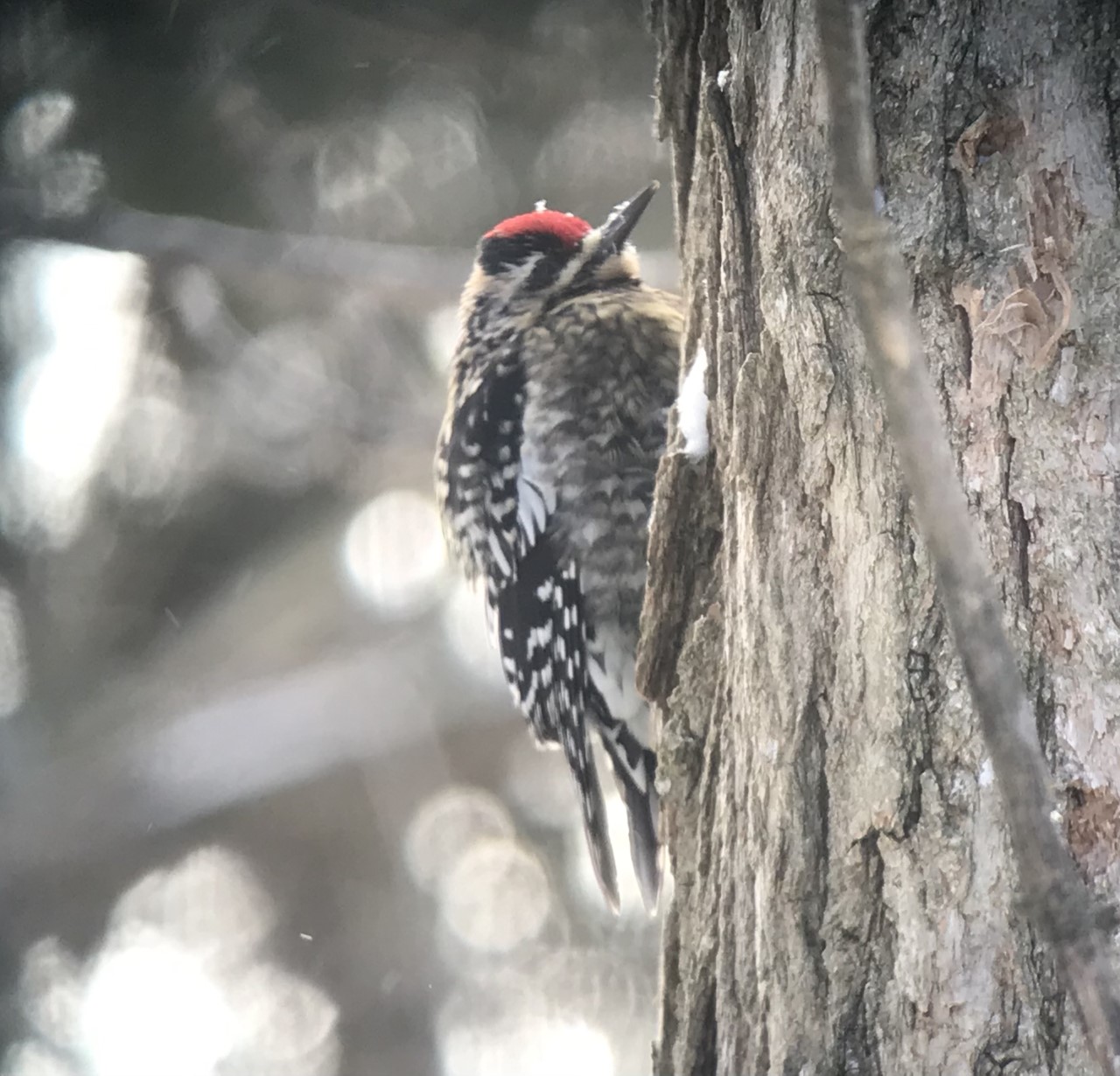 204 bird species have been observed at Seven Ponds! For recent sightings posted to eBird, click the eBird logo to the right.
Our satellite properties are visited less frequently, but offer different habitat for birds. Check out the eBird reports for these two areas below:
Jonathan Woods Nature Preserve eBird reports
Paul's Woods is a mature beech-maple forest bordering a swamp. The trail is a loop of approximately 1/2 mile, and includes a wide, flat trail through the forest and a winding boardwalk through the swamp, which borders Miller Pond. Get a close-up look at the beaver lodge on Treetop Pond, and check out Big Pond from the observation tower.
The North-80 is located on the north side of Crawford Road, and has an extensive trail network that winds through old fields, a wildlife orchard, young forests, and an old fence row. Two bridges cross the drain, and an observation tower gives you a panoramic view of the field and Waterfowl Pond. During spring and summer look for Eastern Bluebirds and Tree Swallows using the nest boxes in the field.
Earl's Prairie is a nine-acre reconstructed tall grass prairie. Bordered by pine trees most of the way around, the prairie truly comes into its own during late summer, when the grasses are tall and prairie flowers are blooming. Enjoy the wide-open sky and prairie view from the observation tower. 
Located near the nature center and containing many ephemerals, the Woodland Wildflower Area is a wonderful place to visit in the spring. A wide variety of wildflowers and ferns awaits you in this enclosed area. 
Jonathan Woods is located a few miles southwest of the nature center on Jonathan Road. This 145 acre preserve is mature hardwood forest that includes a large, leatherleaf bog and a cold water brook with a hemlock stand. Greatly affected by past glacial activity, the terrain here is rolling and hilly. 
Richie Pond Preserve is located on Hosner Road and includes a grassland and small ponds, as well as a marsh bordering Richie Pond.
Miller Pond Boardwalk
The 1/4 mile boardwalk winds along the shore of Treetop and Miller ponds, and provides access to an interesting swamp forest habitat, with cattails, skunk cabbage, ferns, and views of both ponds. A small platform at the north end overlooks an active beaver lodge.
Observation Platforms
Three raised observation platforms are located throughout the nature center grounds. In Paul's Woods, a platform overlooks Big Pond, the largest of the Seven Ponds. In the North-80, a platform overlooks Waterfowl Pond and the neighboring grassland. In Earl's Prairie, a platform provides a grand view of the entire nine-acre tallgrass prairie.
A-Frame Bridge
This unique bridge spans the channel between Treetop Pond and Little Pond, and leads to Paul's Woods. It's a wonderful place to view wildlife, and is always worthy of a pause to enjoy the view. First constructed in 1968, it was rebuilt in the 1990s and again in 2011.
Waterfowl Pond
Located in the North-80, Waterfowl Pond is a small, shallow pond with plenty of cattail marsh, and is an excellent place to observe ducks, herons, rails, muskrats, and other wildlife. An observation platform provides an overhead view. Water from this pond drains into the marsh of Long Pond.
Treetop Pond Teaching Platform
This dock is located at the base of the hill behind the nature center building, and provides an excellent view of Treetop Pond and the A-Frame Bridge. Check out the large beaver lodge visible across the pond, and look for signs of their activity in the woods around the dock.
Demonstration Gardens
These gardens are located in front of the Interpretive Building, and display numerous native trees and shrubs, demonstrating that you can landscape your own yard using native plant species.
Butterfly Garden
Maintained by our Butterfly Gardeners volunteer group, the Butterfly Garden is located near the driveway loop. Its plants provide nectar for butterflies and other insects, and serve as hosts for butterfly larvae.
Songbird Nesting Boxes
The nature center maintains over 100 songbird nest boxes, scattered throughout the North-80, Earl's Prairie, the Richie Pond Preserve, and around the nature center building. These boxes are utilized by Tree Swallows, Eastern Bluebirds, House Wrens, and Black-capped Chickadees. Volunteers monitor these nest boxes, collecting data which is submitted to NestWatch, a citizen science program conducted by the Cornell Lab of Ornithology.
Herb Garden
Maintained by our Friends of Herb volunteer group, the Herb Garden is located near the driveway loop. This garden displays plants used by our fore-bearers for food, medicine, potpourri, and dyes.
Bird Feeding Stations
Two bird feeding stations located just outside the interpretive building attract a wide range of birds throughout the year. Depending on the season, you may see a variety of woodpeckers, finches, sparrows, blackbirds, and many other birds visiting the feeders. Visiting mammals may include gray, fox, and red squirrels, eastern chipmunks, and woodchucks.