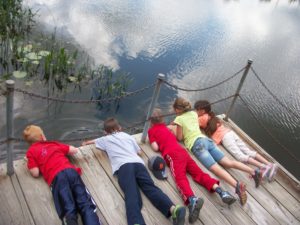 Please look over the many activites the nature center has to offer and schedule a program soon. Please contact us if you would like a custom program, we can use our many resources to help you. 
All programs can be scheduled by completing the Request Form or calling the center at 810-796-3200. Programs must be arranged in advance and groups visiting the nature center have access to the building and trails only under the supervision of a naturalist.
---
Seasonal Walk
Pre-school children through adult Seasonal Walks take advantage of he variety of natural happenings at Seven Ponds through the seasons. spring features woodland wildflowers and singing frogs. During summer, prairie wildflowers are bloom ing and birds are singing. Fall features changing leaves and animals preparing for cold weather. In winter, birds abound at the feeders and animals leave tracks in the snow. Each season has its own fascinating mysteries for eager students to discover along our trails. Seasonal Walks are spontaneous, with our knowledgeable naturalists helping explore interesting objects and events encountered along the trail. The walk incorporates a variety of themes appropriate for each grade level.
Time: 1½ – 2 hours, Fee: $3.00 per person. ($25.00 minimum)
Pond Exploration: Grades K through 6
We will "dive" into the underwater world of our lakes and ponds. Through photos, animal specimens, and pond sampling, students will learn all about the critters that make the water their home.
Grades K – 1 will experience pond critter observation and grades
Grades 2 – 6 will use pond nets to capture organisms.
Time: 1½ – 2 hours, Fee: $4.00 per person. ($25.00 minimum)
Explorer Programs offer a sequential kindergarten through middle school curriculum, with each grade focusing on specific ecological concepts. Each program includes Next Generation Science Standards and Grade Level Content Expectations for Social Studies. We bring classroom lessons to life, reinforcing the work students are doing in school. These interesting programs promote greater knowledge, awareness, and appreciation of our natural world, using inquiry-based learning through investigations, observations, and activities while in nature.
Time: 2 – 2½ hours, Fee: $4.00 per person