2022 Holiday Auction - Live Auction Gallery
***two more items to be added - check back for updates***
Once again, the Holiday Auction & Christmas Party "Live Auction" will feature unique and outstanding items, up for bid and auctioned off by professional auctioneer Brian Rowley. We will also have many items available in our silent auction, as well as a raffle for the Holiday Party Basket. ALL proceeds from this event directly benefit Seven Ponds Nature Center.
If you are unable to attend our Holiday Auction but would still like to bid on an item, you may place a remote bid by contacting Board member Charlie Turner via email at charlie@detsales.com.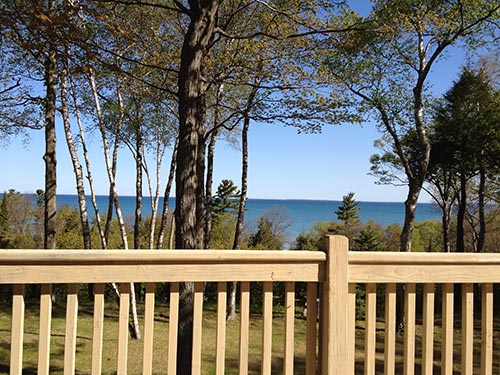 Northern Michigan Retreat
Relax for your seven-day stay in this privately owned three-bedroom cottage with shared private beach. Cottage is located near Cross Village central to several popular destinations including the famous Tunnel of Trees and within walking distance of the historic Legs Inn. Offer is good for dates in June, August, or September 2023.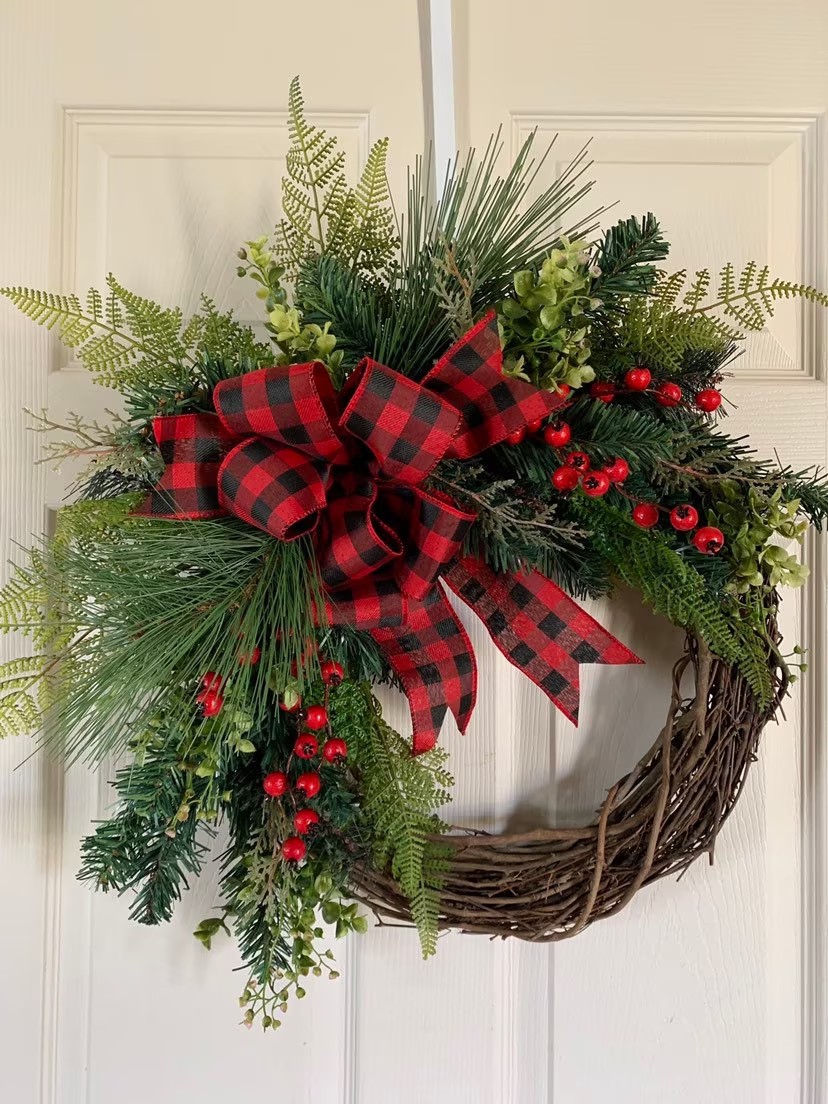 Our talented Friends of Herb group is offering a freshly-made holiday wreath, certain to spruce up your holiday decor. The wreath pictured is an example, not the actual wreath, which will be made the day before the event and on display the night of the auction.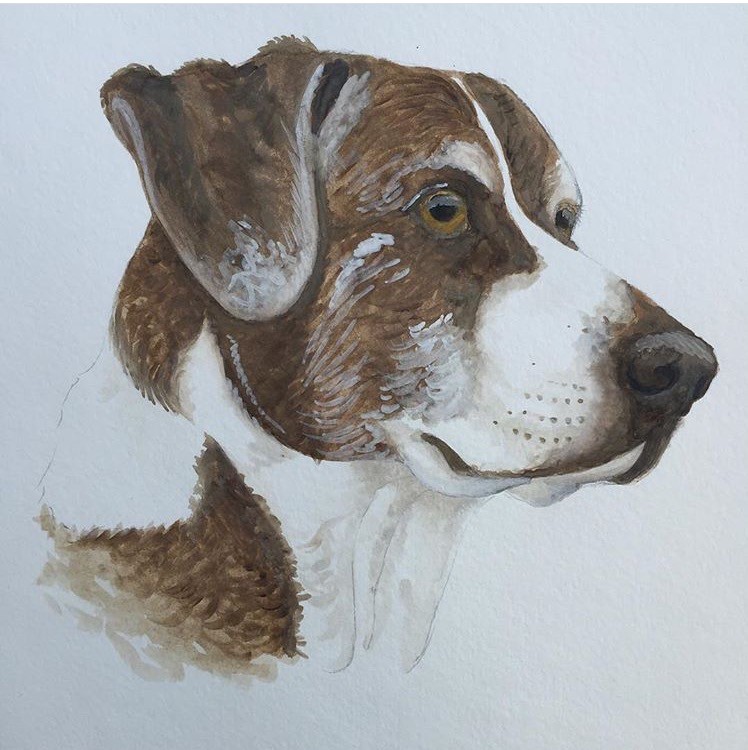 Using your favorite photograph of your beloved pet, Naturalist Katie will create a work of art that your family will treasure forever. Katie can do pencil, watercolor, or acrylic - your choice. This is truly a priceless item. Art dimensions will be approximately 9" x 12".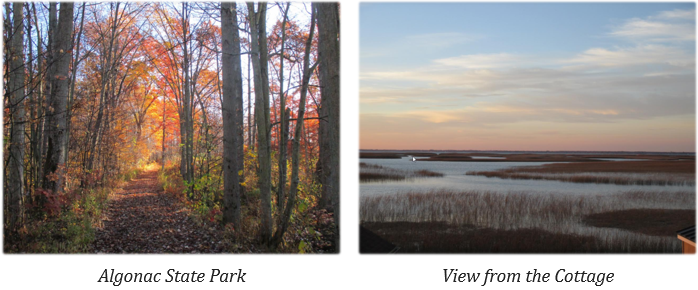 Day of Birding in Algonac
Enjoy a day of birding with Seven Ponds' Board of Directors member and avid birder, Joanna Pease, at Algonac State Park and St. John's Marsh in St. Clair County. This area always has excellent sightings during any season.  In spring and early summer possible sightings include Cerulean Warbler, Prothonotary Warbler, Black Tern, American Bittern, Least Bittern, and many other land and wetland species.  In late fall and winter possible sightings are many species of ducks, Lesser Black-backed Gull, Glaucous Gull, Snowy Owl, Rough-legged Hawk, and Northern Shrike.  This trip is for up to four participants and includes lunch at Joanna's cottage overlooking Anchor Bay on Lake St. Clair.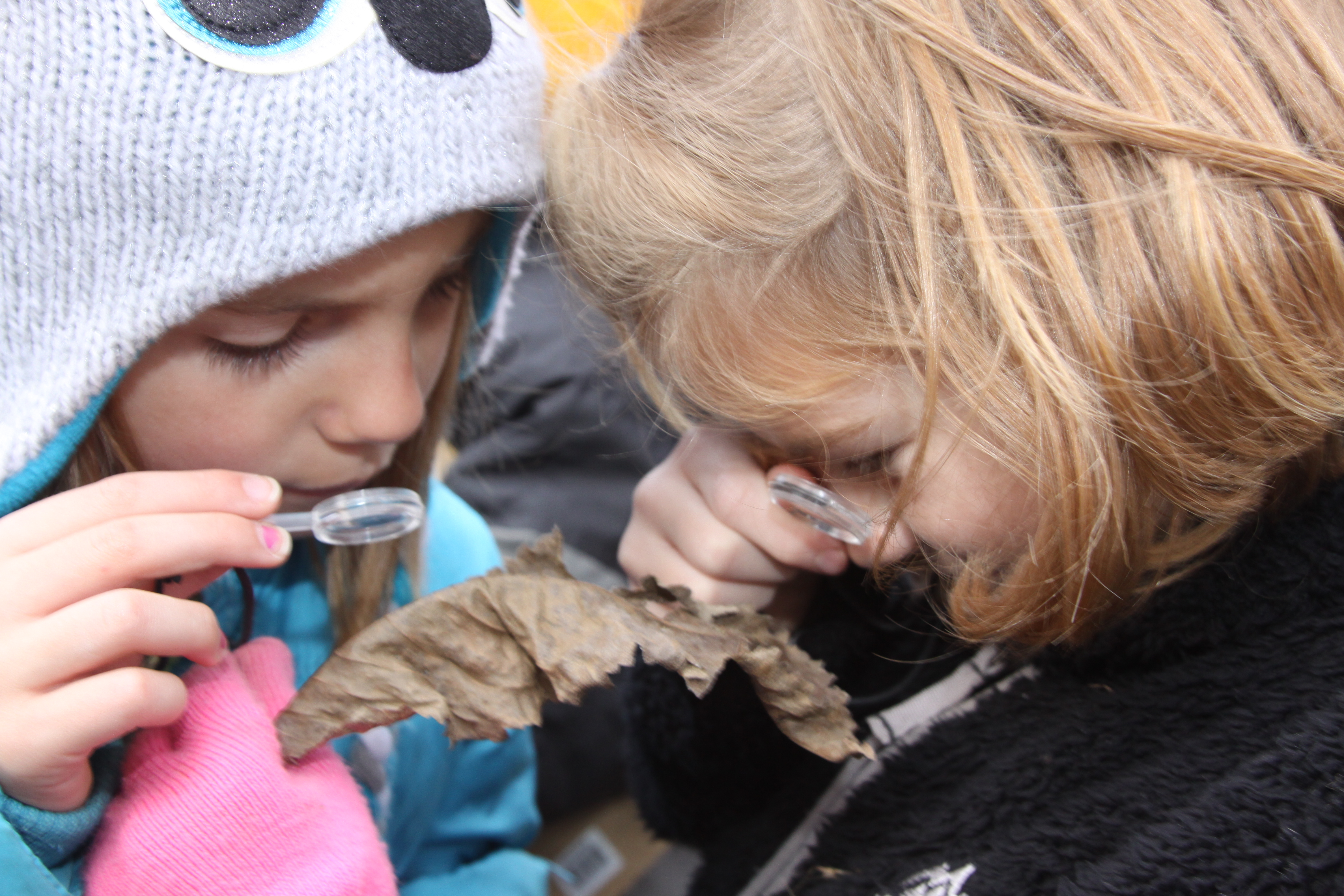 Traveling Naturalist Program
Seven Ponds naturalists will conduct a special program at the K-6 classroom of your choice. This is a great gift for your favorite child or grandchild, or that special teacher in your life. Program can be done in a school classroom or at Seven Ponds. 

Chain O' Lakes Spring Weekend
Spend a relaxing weekend at a private cottage right on the Chain O' Lakes in Antrim County between Traverse City and Charlevoix in the town of Central Lake. Just minutes away from Bellaire and all it's shops and restaurants including Shorts Brewery. Benway Lake is a 130-acre all-sports lake popular with fisherman and water sports enthusiasts alike. Just a short drive to Grass River Natural Area, Charlevoix paved bike paths, and Glacier Hill hiking trails. Spend 3 days / 2 nights at a 3 bedroom, 2 full bathroom cottage that includes a hot tub, fireplace, washer/dryer, internet, and more.  Good for March, April, or May of 2023.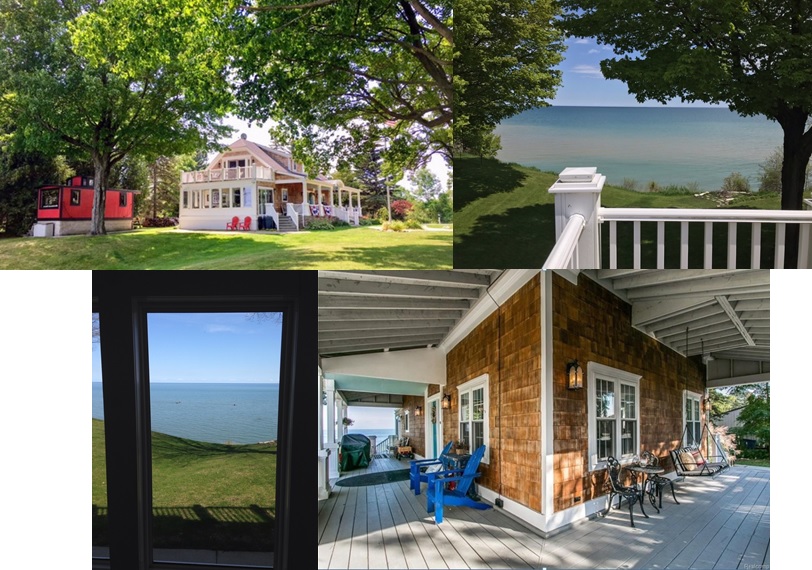 Spend a weekend at this beautiful home, located directly on the shore of Lake Huron. After a quick drive up scenic M-25, you'll find yourself relaxing lakeside without a care in the world. Enjoy sunrise from the back deck, or take a hot beverage down to the beach. Conveniently situated between the quaint harbor towns of Port Sanilac and Harbor Beach, this house is fully furnished and equipped for your stay. Sleeps up to nine. Includes a full 3 days/2 nights.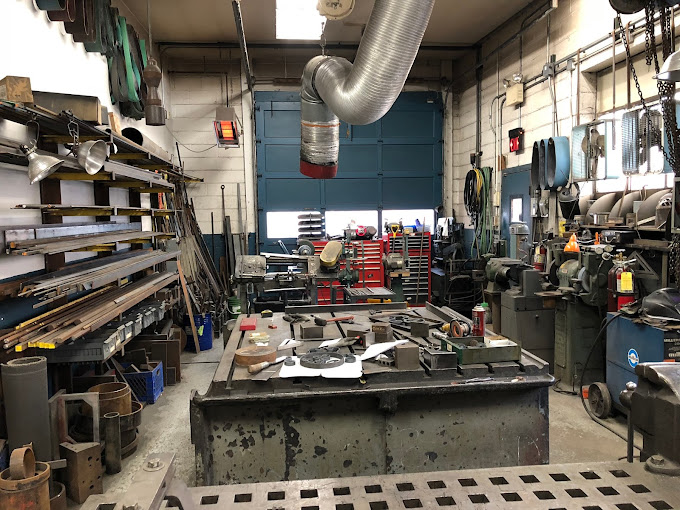 Introductory Blacksmithing Class
Join the blacksmiths at CJ Forge in Hazel park for an introductory blacksmithing experience. This class offers expert instruction and a chance to grab a hammer and hot iron and pound that anvil. CJ Forge has a long-time relationship with Seven Ponds, and recently completed the amazing entryway to our Naturescape. This certificate is good for one to four people, with a $200 value per person.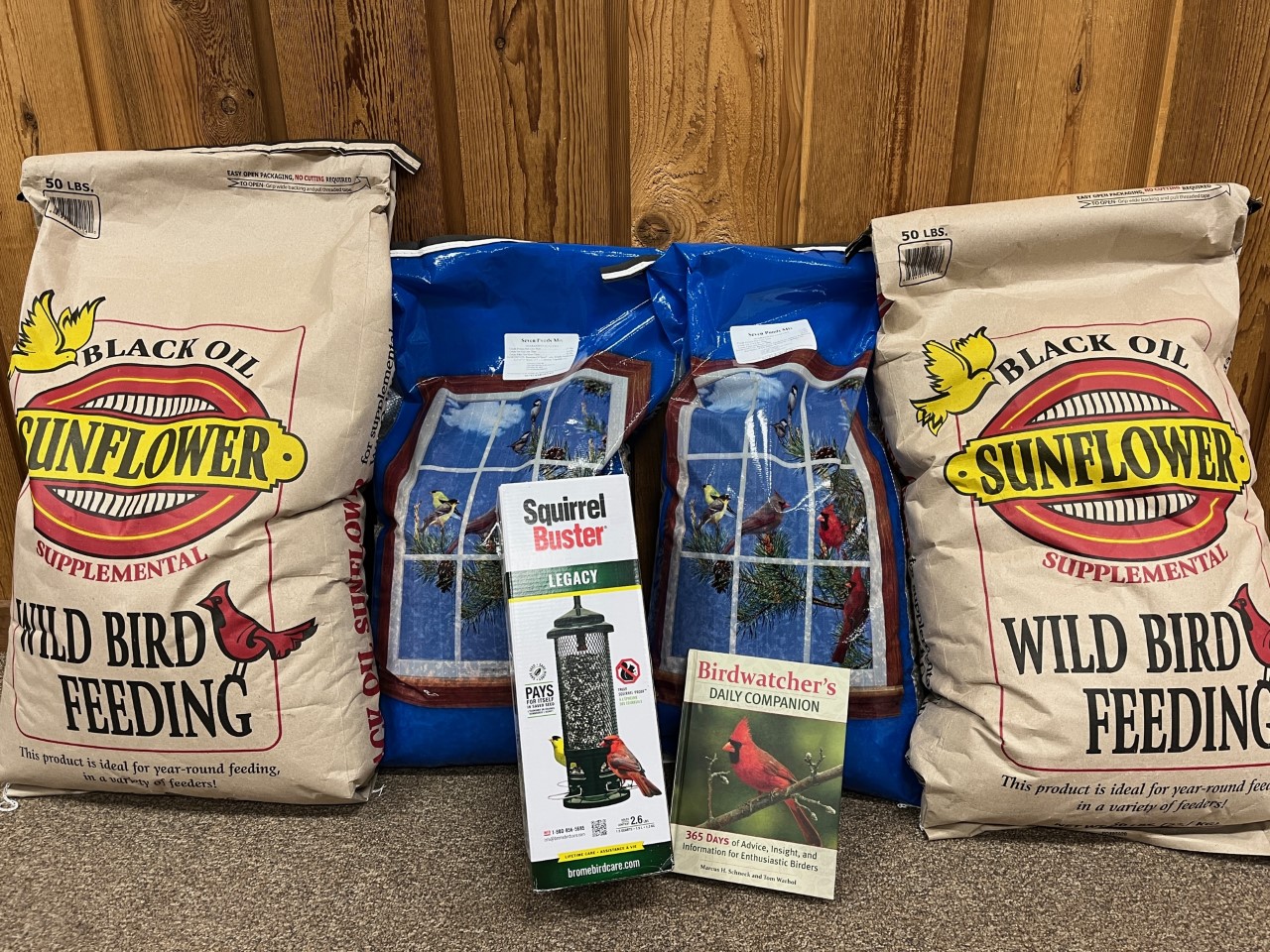 Backyard Bird Feeding Package
Everything you need to start attracting feathered friends to your backyard, or supplement your current set-up. Included in the package deal are two 50# bags of black oil sunflower, two 40# backs of special Seven Ponds mix, a 2.6 pound capacity feeder, and a Birdwatcher's Daily Companion book. Take it all home the night of the auction and start feeding birds the following day!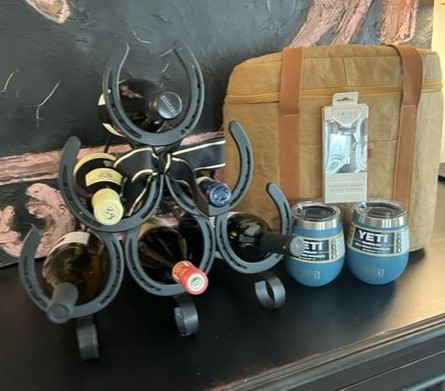 Horseshoe Wine Rack filled with six bottles of red and white wines, two Yeti wine tumblers, a wine opener, and a reusable Earth-friendly insulated cooler.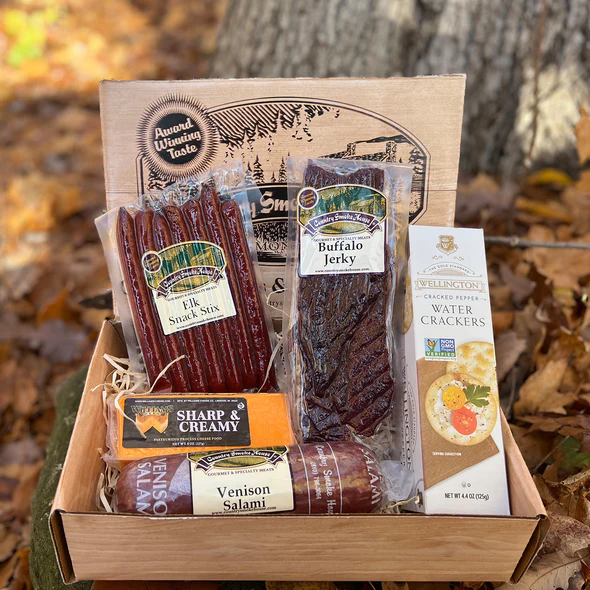 Country Smokehouse Gift Box
What better way to celebrate the season than with a tasty selection from our favorite local shop, the Country Smokehouse? We will have two unique gift boxes up for bidding. Note: gift box pictured is a sample; actual gift boxes will vary.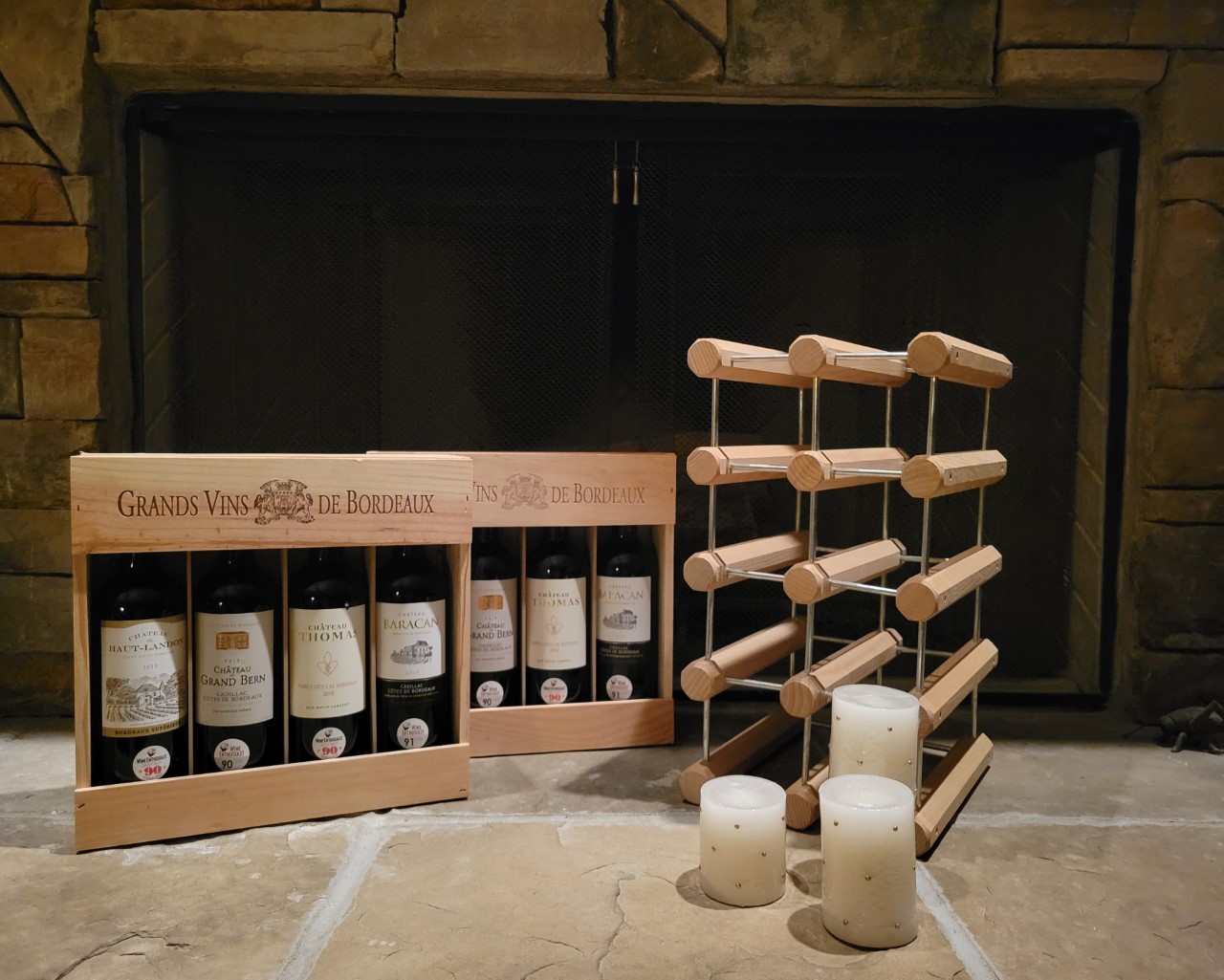 This beautiful wine rack will accentuate your home, and includes a wonderful selection of eight Grands Vins de Bordeaux wines.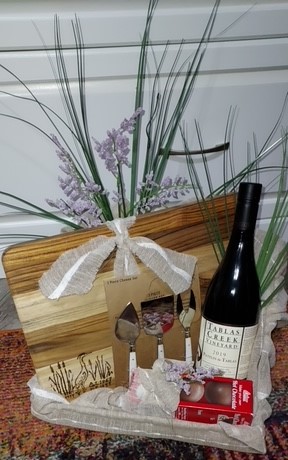 Custom Seven Ponds Charcuterie Board
Charcuterie Board with the Seven Ponds Nature Center Logo custom burned into the wood grain for a one-of-a-kind item.  This elegant piece has been created specifically for our members and supporters.  Included is a Towle Living 3 piece cheese cutting set, lovely Tablas Creek Vineyard 2019 Patalin de Tablas bottle of wine - a blend of 4 red Rhone varietals (no longer on the market) and a box of chocolate bombs to accent your favorite cheese tray arrays.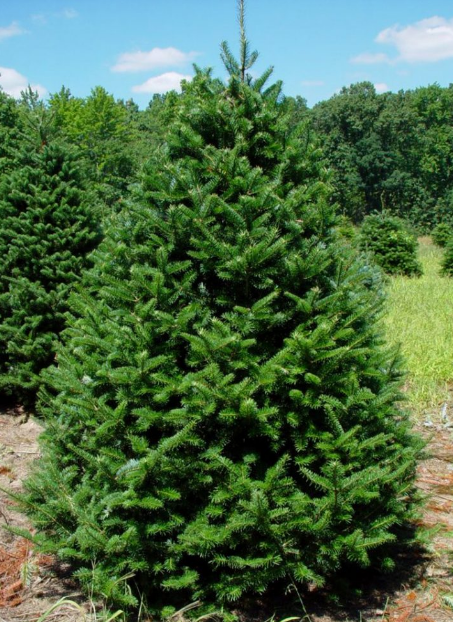 Canaan Fir Christmas Tree
Looking for a Christmas tree? We've got you covered! Take home a six foot Canaan fir that is sure to spruce up your house and brighten your holiday spirits. Canaan firs are the best of both worlds: they have the heartiness and branch-strength of a Fraser, but the conical shape and rich green needles of a Balsam. (actual tree is not pictured)
This wonderful package includes a beautiful wool blanket dog bed, a large basket stuffed with all manner of treats and toys for your furry friend, and $50 gift card for Healthy Dogma of Oxford.
Fully Stocked Craft Beer Crate
This package includes a rustic wooden crate and 48 bottles of select craft beer.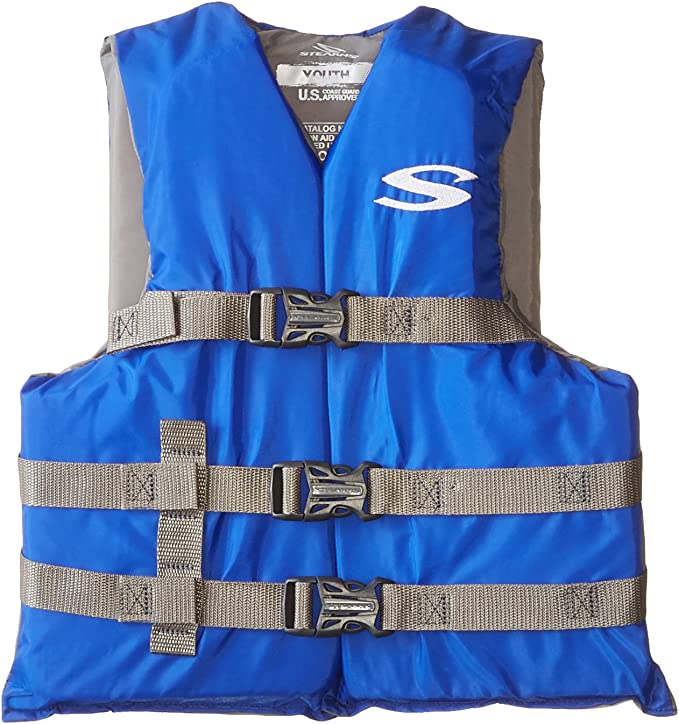 PFD Life Vests for Seven Ponds
Seven Ponds naturalists conduct several canoe programs each year, sharing the wonders of our waterways with countless families. Our PFD supply is badly outdated, with uncomfortable life preservers that recall the Titanic days. Your $25 bid will purchase a modern, comfortable vest that will provide safe and enjoyable paddling for years to come. Our goal is 45 PFD's spanning all necessary sizes. Thank you for your support!